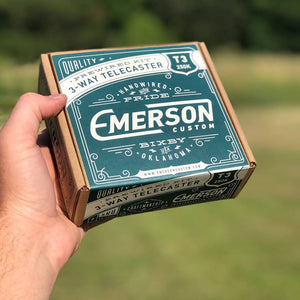 HANDWIRED WITH PRIDE
Each day we set out to beat your expectations. Mediocre results and sound simply won't cut it for us. Everything that we craft has our heart and soul put into it so when you unbox your hard-earned products, you instantly feel the quality and old school craftsmanship Emerson Custom is known for worldwide.
We're constantly dreaming, tinkering, testing and building to create unique products that inspire sonic creativity.
Our products are built by musicians for musicians. 
The word around the world
Something exciting came in the mail today! Huge shoutout to @emersoncustom. Their products are absolutely insane and built with passion. To all my guitar player friends, I highly recommend you guys check out these new MK2 pedals!

@Mateodelduca
Got to swing by @emersoncustom today and pick up some new goodies! I have to say, Mitch is the real deal. He's mega busy running his company and taking care of his family (including his newborn) but he still took the time to show me around and let me play with some new products that you guys will hear about before too long. These are the kind of people and companies that are worth supporting. Do yourself and your rig a favor and pick up one of these updated pedals, and keep your eyes peeled for some sick new stuff from these guys!

@Saint_pope
Out of all my guitars, I just love this one the most. It looks so classy and sounds so good. I upgraded the electronics with an @emersoncustom Prewired Tele Kit and it improved the overall tone of the guitar.

@Siamesekajo
There is no better drop-in Esquire Wiring solution than the Emerson Esquire wiring harness. The combination of top tier components along with the quality craftsmanship put into every harness gives your Esquire the most pure and useable tonal options your pickup can supply.

Steve M.
I like to find cheap but solid guitars at pawn shops and turn them into great sounding players. A few weeks ago I bought the 3-way Telecaster harness to go in to a Squier Telecaster. Once I installed the harness my Tele with stock ( but not bottom of the line) pickups, it came to life. The clarity and Tone are amazing. These harnesses are the single best upgrade anyone could do to their instrument. The workmanship and attention to detail are unparalleled. I have a background in electronic repair so I know a good solder and wire routing job when I see one. The workmanship is detail oriented and top notch. 

I'm putting Emerson harnesses in all my guitars from now on.

Ted D.
can't find what you're looking for? find it here!